Bonjour , aujourd'hui je vous présente Crypnode , un Hyip basé sur un Masternode .
Un MasterNode est un fond qui fonctionne sur le système du Proof Of Stake , beaucoup plus interessant que le Proof Of Work qui a montré ses limites !!
Les plans démarrent a 10$ seulement en USD pour ce qui est des cryptos ca donne :
Every currency (crypto or US dollar) sets its specific limits:- from $10 to $100,000 if you pay with USD payment processor (Perfect Money or Payeer) -

from 0.002 BTC to 20 BTC if you pay with Bitcoin-

from 0.02 ETH to 200 ETH if you pay with Ethereum-

from 0.1 LTC to 1,000 LTC if you pay with Litecoin-

from 0.01 BCH to 100 BCH if you pay with Bitcoin Cash-

from 0.05 DASH to 500 DASH if you pay with Dash-

from 5 PIVX to 50,000 PIVX if you pay with Pivx-

from 10 XRP to 1,000,000 XRP if you pay with Ripple
Le rendement journalier , varie entre 0.5 et 1.5% du Mardi au Dimanche , et le Lundi c'est jusqu'a 5% .
Le plan mature a 150% .
L'admin nous fait une vidéo de presentation :
A noter la présence d'un petit plan de carrière :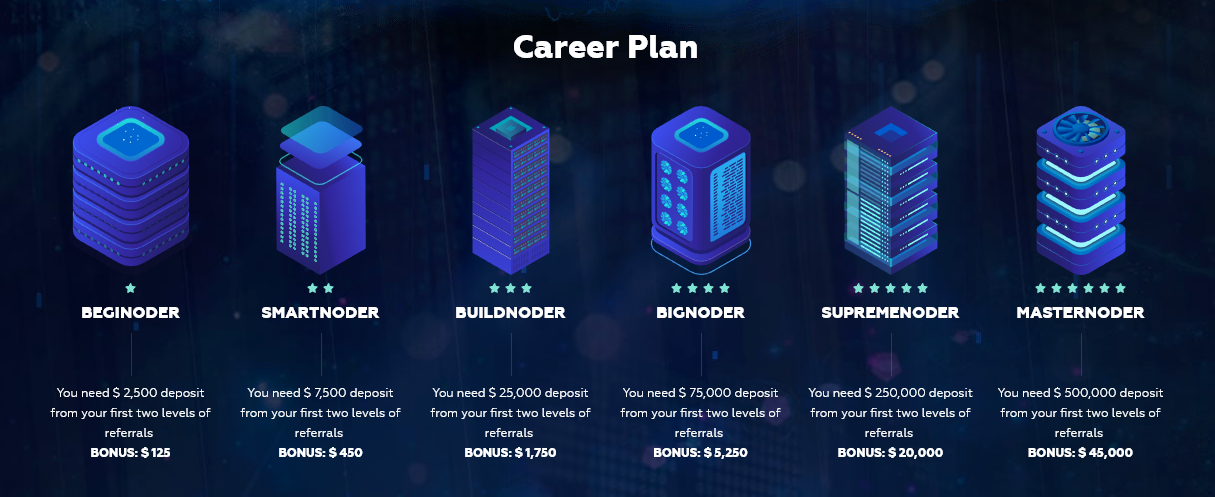 Le plan d'affiliation est sur 7 niveaux : 5-3-2-2-1-1-0.5% !!
Mon premier filleul n'est autre que Diversity Fund , nos chemins n'arrêtent pas de se croiser !!
Pour me suivre :
Post was edited 2 times, last by "fbarth75" ().